Fiber Optic Splice Closure is a fiber management product typically used with outdoor fiber optical cables. It provides space and protection for the fiber optic cable splicing and joint. Fiber splice closure is used for aerial, strand-mount FTTH "tap" locations where drop cables are spliced to distribution cables. Powerlink supplies two types of fiber splice closures which are the horizontal (inline) type and the vertical (dome) type. Both are made of excellent engineering plastics to be waterproof and dust proof. And with various ports types, they can fit different fiber optic core numbers. Powerlink's Splice Closure is suitable for protecting optical fiber splices in straight through and branching applications, and can be used in aerial, d uct and direct buried fiber optic cable projects.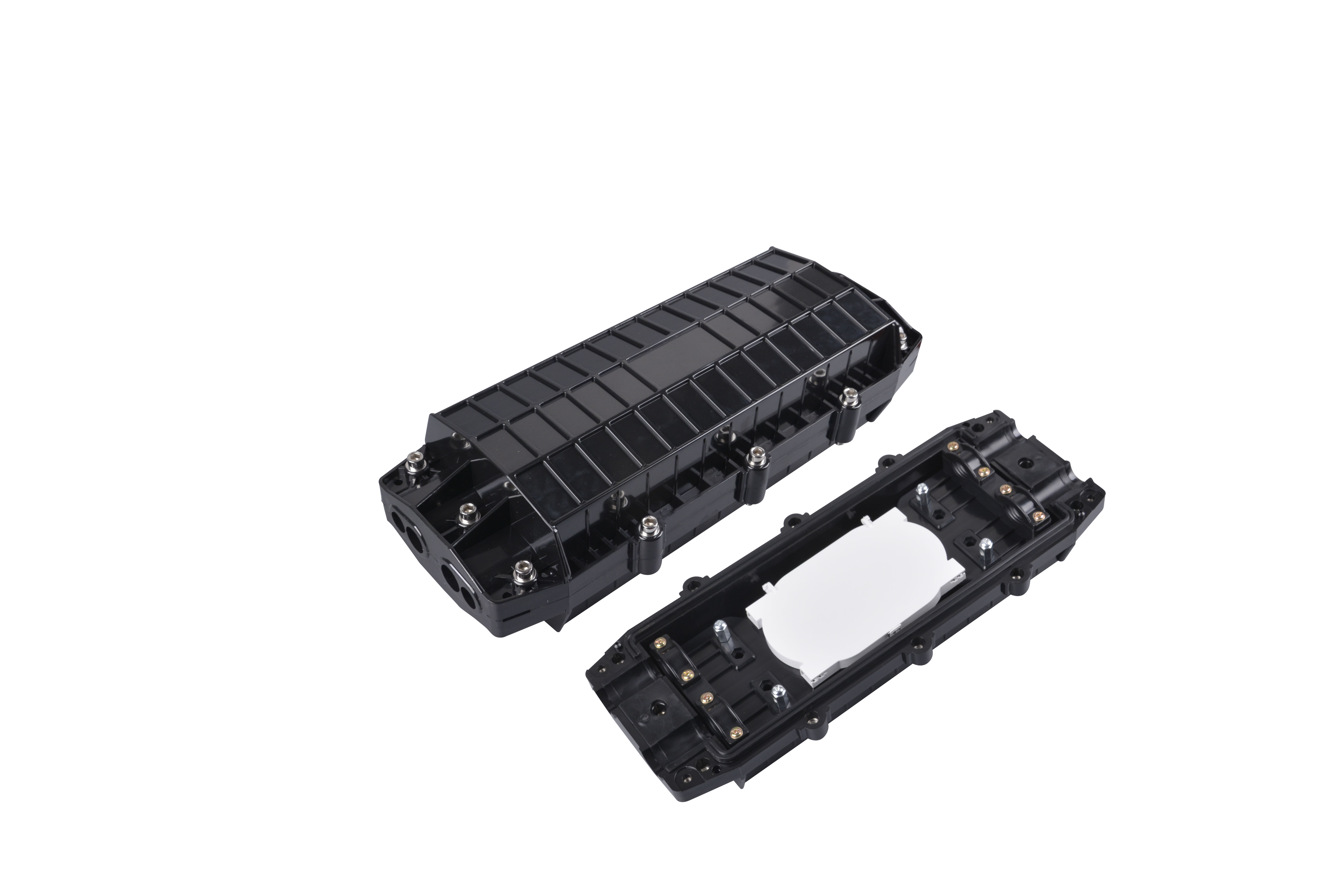 Characteristic
1.Suitable for ordinary fiber and ribbon fiber.
2.Fully kitted with all parts for convenient operation.
3.Overlap structure in splicing tray for easy installation.
4.Fiber-bending radium guaranteed more than 40mm.
5.Easy to install and re-entry with a common can wrench.
6.Excellent Mechanical Sealed to protect fiber and splice ensuring durability.
7.Stand up to severe condition of moisture,vibration and extreme temperatures.
Application
1.Be suitable for Aerial and Duct.
2.CATV environment, Telecommunications, Customer premises environments, Carrier Networks and fiber optic networks.
Technical Parameters
| | |
| --- | --- |
| In and Out Port No. | Four ports,two input two output |
| Fiber optical cable diameter | Small port:¦µ8~¦µ17.5, Big port:¦µ10~¦µ17.5 |
| Fiber melting No. | Single core:1~12 cores(can be extend to 16 cores);Ribbon beam :24 cores |
| Max capacity | Single-core :72cores ;Ribbon beam :144cores |
| Sealing way | Mechanical Sealing /Heat-shrinkable sealing |
| Sealing tape | Unvulcanized self-adhesive sealing tape |
| Installation application | aerial, pole-mounting, wall-mounting and direct buried |
| Material | Closure body is made by Super ABS/PPR material, and the bolt was made in stainless steel |
| Working Environment | Working temperature: -5¡ãC to +40¡ãC,Relative humidity:¡Ü85%(at +30¡ãC),Atmospheric pressure: 70Kpa-106Kpa |
| Weight and Size | Splice closure weight:2.1kg. Size:460¡Á180¡Á110(mm) |
Our Factory:

For more information, please contact us!