GYTC8S fiber optic cable, single-mode/multimode fibers are positioned in the loose tubes, while the loose tubes strand together around metallic central strength member into a compact and circular cable core, and the water-blocking materials are distributed into interstices of it. After a PSP/APL is applied around the cable core, this part of cable accompanied with the stranded wires as the supporting part are completed with a PE sheath to be a figure-8 structure.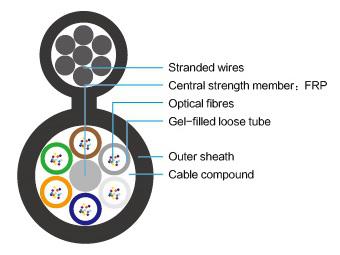 Characteristics
1. Cable section is ˇ°8ˇ±,with 7*1.2mm steel wires;
2. PSP corrugated steel tape;
3. Steel wire strength member;
4. PBT loose tube,each tube max 12 fibers.
Applications
Easy aerial installation,because of fig8 self supporting design,with simple and easy installation tools & accessories.
Standards
GYTC8YA/S cable complies with Standard YD/Y 1155-2001 as well as IEC 60794-1
Storage/Operating Temperature: -40ˇăC to + 70ˇăC

Technical Parameters

Our Factory:

For more information, please contact us!