The fibres are positioned in a loose tube made of PBT. The tube is filled with a water-resistant filling compound. A steel wire locates in the center of core as a metallic strength member. The tubes (and the fillers) are stranded around the strength member into a compact and circular core. The both sides laminated Aluminum tape are longitudinally applied over the cable core, which is filled with filling compound to protect it from water ingress. The cable is completed with a PE sheath.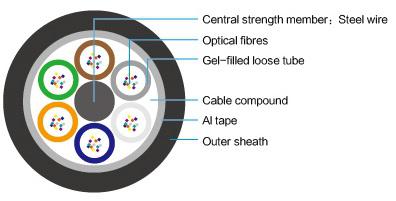 Characteristics£º
1.Excellent mechanical and temperature performance
2.pecial tube filling compound ensure a critical protection of fibre and resist the water
3.Single steel wire as the central strength member to withstand axial loads
4.100% core filling water prevent cable jelly to ensure the cable watertight
5.AL tape longitudinal cover cable core as moisture barrier
6.Outer sheath protects cable from ultraviolet radiation
Installation£ºDuct, Non self-supporting aerial
Applications£ºLong distance, LAN communication
Standards£ºYD/T 901 / IEC 60794-3-10
Temperature Range£ºTransportation£º-40¡æ~+70¡æ£»Installation£º-5¡æ~+50¡æ£»In use£º-40¡æ~+70¡æ
Technical parameter:
Fiber count(core)

2-30

32-36

38-40

42-48

50-60

62-72

74-84

86-96

98-108

110-120

122-132

134-144

Outer diameter£¨mm£©

9.8

10.3

10.4

11.0

11.5

12.2

13.0

14.0

14.8

15.8

16.6

17.4

Cable weigh£¨kg/km£©

90

105

105

125

130

140

155

180

195

220

240

265

Minimum tensile strength£¨N£©

Short-term£º 1500

Long-term£º 600

Minimum crushing (N/100mm£©

Short-term£º 1000

Long-term£º 300

Bending radius

Static£º10 times of diameter Dynamic£º20 times of diameter

Standard length for delivery£¨km£©

2¡«6

Temperature range£¨0C£©

£­40¡«£«60
Our Factory:

For more information, please contact us!