The simplex cable uses a single ¦µ600¦Ìm or ¦µ900¦Ìm tight buffered fibre as optical communication medium. The tight buffered fibre wrapped with a layer of aramid yarn as strength member, and the cable is completed with an outer sheath.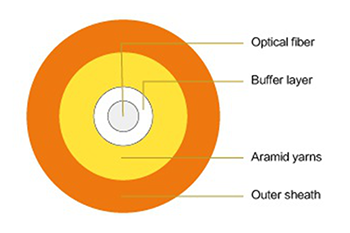 Characteristics£º
1.Excellent flexibility
2.Excellent mechanical performance
3.Excellent temperature performance
4.Excellent flame-retardant performance and free to choose different flame-retardant grades sheath
5.Limited shrinkage
6.Different fibre types available
7.Special dimension available on request
Installation£ºIndoor, Tube inside, Equipment Interior
Applications£ºFor direct connector assembly, interconnect between instruments, communication equipments,
directly used on the device's components
Standards£ºYD/T 1285.2 / IEC 60794-2-50
Temperature Range£ºTransportation£º-25¡æ~+70¡æ£»Installation£º-5¡æ~+45¡æ£»In use£º-20¡æ~+70¡æ
Technical parameter:

Our Factory:

For more information, please contact us!